LITTORAL
Download our free mobile app from Google Play or Apple Store
The Constellations of Île d'Orléans
Île d'Orléans keeps secrets, treasures of nature, anecdotes of sailors, embroidered houses, moving memories, joyful encounters, artistic breaths, legends of wizards. The Island is the guardian of thousands of stories. What if these stories were told to you during a walk along the coast?
In addition to the interpretative panels present on the island, illustrating and relating in a factual way aspects of its history, the LITTORAL application offers a more intimate narration, a portrait and an awareness of the territory through the eyes and the hearts of those who inhabit it. Like a postal letter, an anecdote told, a diary, the circuits become a pretext to tell a multitude of testimonies on the beauty of everyday life and the intrinsic poetry of the island.
Interpretative walking routes
The layout of the circuits on a map, punctuated sometimes by loops and sometimes by out-and-back segments, with various landmarks, viewpoints and points of interest, strongly resembles Constellations, which inspired the unifying concept for the project. The constellations are timeless and form a set of connected networks. They become the common thread that evokes insularity. They are lights of the past, contemplated in our present. The Constellations are also means of reference for navigation, one of the founding elements of the island.
Thus, the island will become like a mirror of the sky with its own stories, its own constellations, its relationship to the surrounding river, itself a mirror of the sky. You thus explore a second sky. A unique sky dotted with testimonials, light love stories, living correspondence and singular personalities who have shaped, according to the tides, Île d'Orléans.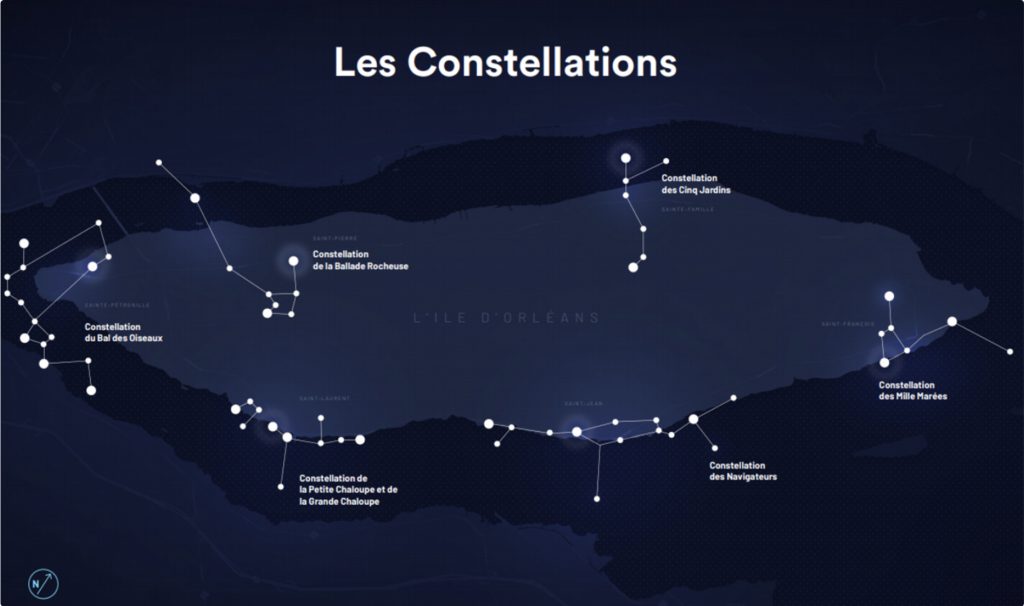 The MRC of Île d'Orléans is the initiator of this coastal enhancement project, and has benefited from the collaboration of municipalities, residents who have contributed to the interpretive content and member tourism businesses. Watch the steps that led to the realization of the project.
The following consulting firms have contributed to the various phases of the project's development, from the identification of segments of the coast accessible on foot, to the development of the mobile application, including the elaboration of the concept and the interpretative content: Nature Québec, Cultura, Hybride Paysage and the Escargo Collective with Geneviève Murray museologist, the Ethnological and Multimedia Investigation Laboratory (LEEM) of Laval University and Altkey.
This project was made possible thanks to the financial participation of the Government of Quebec, through its Ministry of Culture and Communications and Ministry of Tourism, the partners of the Agreement on the Landscape of the Capitale-Nationale, Destination Québec city and the MRC of Ile d'Orleans.

Consult the summary of each of the Constellations