Ile d'Orléans
Île d'Orléans is located downstream from Quebec City, in the estuary of the St. Lawrence River. It is surrounded by Chemin Royal, which links its six municipalities.
Three roads cross it in width. Île d'Orléans is a rural area that covers almost the entire island, which is approximately 34 km long and 8 km wide. A central ridge, mostly covered with forest, connects its ends. Its relief is marked by a series of terraces that extend from the banks. The regular subdivision punctuates the landscape.
Seen from the sky, the island appears as a succession of narrow and elongated rectangular lands, which are arranged on either side of a longitudinal line and which face the St. Lawrence River.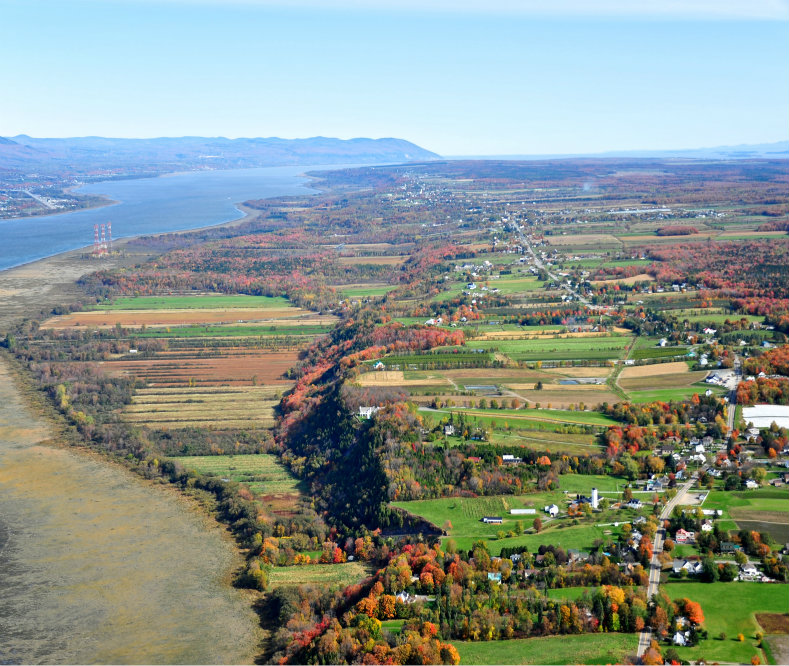 Agriculture has always been the dominant activity on the island, marked by dairy, fruit and vegetable production as well as maple products. Even today, agriculture occupies almost 95% of the territory.
Old houses, agricultural outbuildings, resort residences, contemporary constructions, village cores, coves, coastal wetlands, woods and escarpments also enliven these rural landscapes.
A declared heritage site
The Île d´Orléans heritage site is one of the first settlements in the St. Lawrence Valley. By the emigration of its population, from 1680, the island was the cradle of many families of the French-speaking world of America. The 300 families from France who settled there in the 17th century now have more than 100,000 descendants in North America.
Before the arrival of Europeans, the Île d´Orléans had long been frequented by Native Americans. Their presence dates back approximately 5,000 years.
Declared a heritage site in 1970, Île d´Orléans is of interest for its historical, landscape, architectural, archaeological, emblematic and identity values. The Île d'Orléans heritage site has some 3,600 buildings, of which 19 are listed as heritage buildings. It also has several archaeological sites.
For more information on this subject, consult the web site Répertoire du patrimoine culturel du Québec.